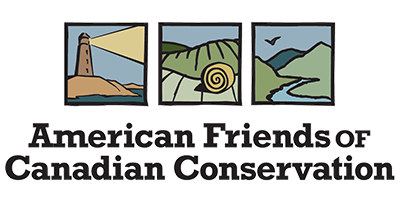 American Friends of Canadian Conservation Seeks an Executive Director
American Friends of Canadian Conservation (AF) is seeking a dynamic, motivated individual to fill the role of Executive Director for this trans-border conservation organization. The AF Executive Director role is committed to protecting ecologically valuable properties in Canada that are owned by American taxpayers. The successful candidate will have expertise in land conservation, private-public partnerships, outreach to communities and other NGOs and governments, as well as a proven ability to achieve results.
AF is a 501(c)3 non-profit organization, registered in Washington state in 2006. Since completing its first project in 2011, American Friends and its partners have conserved nearly 4,000 acres in 31 transactions in 6 provinces with an appraised value of $18 MM USD. In addition, we have provided $8.3 MM USD in donations from US taxpayers to our Canadian partner organizations. We work closely with American landowners, Canadian land trusts, local communities, governments, and First Nations.
AF is a virtual organization with no physical office. Our current address is in Bellingham, Washington. Our Board of Directors is bi-national and spread from coast to coast. Most of our meetings are virtual. The new ED will be expected to establish an office in their residence, which can be in either the US or Canada.
Responsibilities of the Executive Director
American Friends' Executive Director will lead AF programs and build on the success of the organization. Currently, contractors provide administrative and bookkeeping support and AF expects to add a part-time Conservation Manager position.
The Executive Director (ED) is responsible for developing and leading AF program activities. These efforts encompass a broad spectrum of work, including land protection transactions, community engagement, fundraising, expanding our network of partnerships, and outreach to potential donors.
The ED will manage and mentor staff and contractors, and work in close collaboration with the AF Board to raise funds to support AF programs and operating costs. The ED is also responsible for working with landowners, public and non-profit partners, First Nations, major donors, and Board committees.
The ED will implement our strategic plan to expand our collaboration with Canadian conservation partners, leading AF activities across the US and Canada. These activities include land protection, community engagement, fundraising and assisting our partners in the completion of projects. 
The ED will work with the Board and Finance Committee to develop the program budget and implement actions to achieve annual goals. The ED will provide support to the Board of Directors, largely through assisting the President with organizing meetings, identifying, and recruiting Director candidates, and supporting Board committees. The ED will lead the implementation of AF Strategic Plan and the development of annual work plans.
Compensation & Benefits
Compensation and benefits are negotiable DOE, in the range of $60,000-$75,000 USD (1.0 FTE) plus benefits. The desired start date is September 1, 2022.
As Executive Director for American Friends you will have: 
A Bachelor's degree and at least 8 years of experience working in an organization focused on one or more of the following: land conservation, private-public partnerships, community outreach or other related NGO or governmental fields, including some experience in supervising staff
Experience working with the Canadian conservation community, including First Nations
Experience working effectively with diverse groups, including staff, volunteers, Boards of Directors, agency partners, civic leaders, lawyers, and accountants
Experience working with funders and donors and preparing grant requests to foundations
Excellent communication skills in terms of writing, public speaking, and leading workshops
Ability to set up a virtual office at home and manage communications across four time zones
An ability and willingness to travel in both countries and to work flexible hours when needed
An entrepreneurial spirit, initiative and energy with the capacity and skills to lead, mentor and inspire others, as well as common sense and a sense of humor!
American Friends of Canadian Conservation is committed to recruiting and supporting diverse staff and volunteers who are representative of the communities that we serve. As such, we encourage applications from individuals with diverse backgrounds and life experiences. If you believe that you are a strong candidate for this position, even if you don't meet all the criteria above, we encourage you to apply and make your case!
Please visit https://conservecanada.org/ for further information on AF or email john.peirce@conservecanada.org.
Letters of Application, including a brief resume or C.V., a complete history of relevant work and at least 3 professional references (with email and telephone contact information), can be submitted by email to john.peirce@conservecanada.org. Please send any questions to the same address.
The closing date for applications is July 15, 2022.
https://conservecanada.org/wp-content/uploads/2019/05/AFCC.logo_.transpfooter.png
200
400
American Friends
https://conservecanada.org/wp-content/uploads/2019/05/AFCC.logo_.transpfooter.png
American Friends
2022-06-07 05:09:22
2022-06-07 05:09:45
American Friends of Canadian Conservation Seeks an Executive Director